On Thursday 25 October, Kathleen and Juliet attended an afternoon seminar on leather as part of the series Imaginative Things: Curious Objects 1400-2000, held at the Centre for Research in the Arts, Social Sciences and Humanities (CRASSH), University of Cambridge.
Convened by Abigail Gomulkiewicz, the seminar brought together scholars to discuss items of material culture made of leather, which may at first appear only functional or ornamental in nature, but that can trigger forms of divergent, creative thinking and original insights.
Thomas Rusbridge (University of Birmingham) focused on leather drinking vessels, which are among the most commonly occurring leather items in early modern inventories. Drawing our attention to the three sizes of leather costrels (see A Leather Costrel), he noted that the shape and surface decoration of these items brought into question ideas of ownership and the nature of drinking. Moreover, he suggested that the common proportions found in extant seventeenth-century costrels suggested that there was some form of leather bottle-making industry in this period.

Philip Warner, curator of the National Leather Collection in Northampton briefly outlined the history of the collection. Initiated by John Waterer and Claude Spiers in 1946 with a donation of £5,000 from the British Saddlery and Leathergoods Manufacturers Association, the collection was originally known as The Museum of Leathercraft.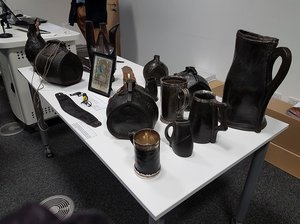 The collection has a huge scope, including fragments of the Dead Sea scrolls, ancient Egyptian leather shoes, and items of royal provenance. Much of the museum's collection has only recently been catalogued and reopened to the public, and it houses a great many items which have yet to be researched. A Renaissance Skin team visit to the collection in the future is definitely on the agenda! Philip came armed with several items from the National Leather Collection for us to handle, in order to highlight the diverse nature of the collection. The objects ranged in date from the sixteenth to the nineteenth centuries and included, amongst other items: a framed, vellum page from a sixteenth-century Books of Hours; leather drinking vessels of various sizes; seventeenth-century leather costrels and bottles; a leather blackjack (or jug); an 1818 terrestrial globe in a red-roan leather case; and a nineteenth-century leather policeman's collar that was designed to be worn under a shirt and prevent knife injuries to the neck.
The seminar was fascinating and encouraged us to reconsider leather in a domestic setting. In the early modern period leather objects were not the privilege of the elite, but were found in virtually every room of every household. Yet despite its ubiquitous nature (nothing comes close to it until the advent of plastic in the modern era), it is often overlooked by scholars.
JC