We celebrated 5 years of the Renaissance Skin project on the 8th & 9th June 2022, with a two-day conference welcoming back many old friends who have shaped the project over the years. The project is officially coming to a close in September this year, so we were pleased to have the opportunity to hold one last big event to share ideas, recognise all that has been achieved, and give thanks to everyone who has made the project such a success.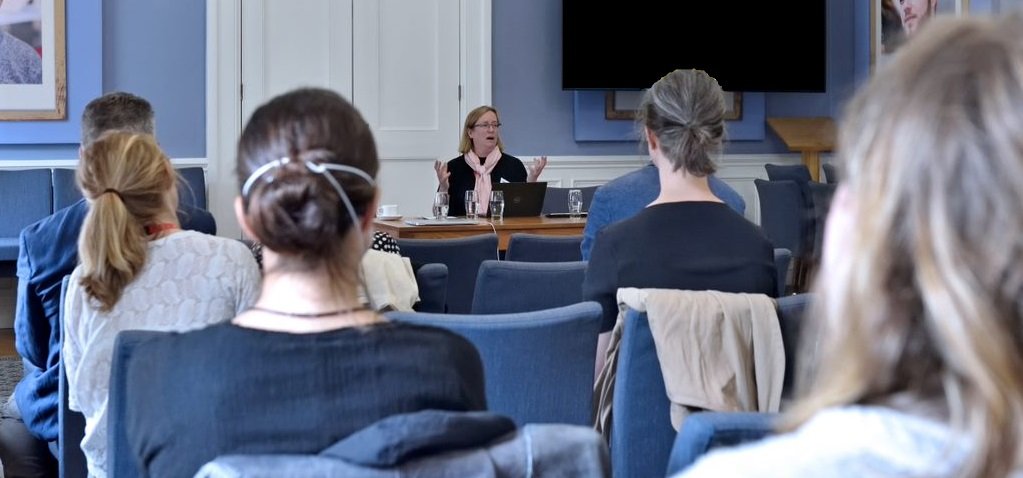 Day one began with a panel chaired by our PI, Evelyn Welch, titled Race and Skin Colour. Long-time project collaborator Craig Koslofsky kicked things off with his paper 'Hybrid Dermal Marking in the Early Modern World', followed by Alexander Bevilacqua on 'Race-Making Festivities in the German Lands'. After a short break, the panel continues with Katherine Dauge-Roth on 'Defining Blackness: Early Debates about Skin Color at Théophraste Renaudot's Bureau d'adresse et de rencontre', and Erin Rowe's 'Skin, Flesh, and Body: Reading Blackness in the Resurrection'. All four papers encouraged thought-provoking questions and conversation, and it was fantastic to begin with a topic now being taken forward in more detail by Renaissance Skin Co-I Hannah Murphy's new UKRI project, Medicine and the Making of Race.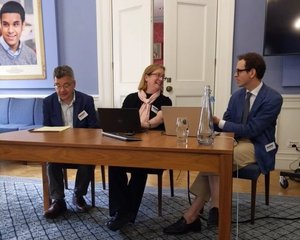 The afternoon welcomed back former project members, with the panel Medicine and Science chaired by former post-doc Sebestian Kroupa, and a brilliant paper from former post-doc Paolo Savoia titled 'Cognitive models: A idiosyncratic genealogy'. Next a schedule change due to Covid: we were sad not to be able to welcome friend and former project collaborator Elaine Leong to give her paper 'Cutting for Blood: Skin and Practices of Phlebotomy in Early Modern London', but incredibly grateful to Carolin Schmitz, who stepped in and presented her fascinating paper 'Attending to women's and children's outer surfaces: Black women healers in the early modern Canary Islands'.
Our cohort then relocated to view a very special film screening: 'Written on Skin', directed, choreographed and performed by Luke Murphy of Attic Projects in response to the Renaissance Skin project. Huge thanks to Luke for joining us for a Q&A, and for providing such an enthralling tribute to the project. There was certainly much to discuss at the conference drinks and dinner which followed that evening.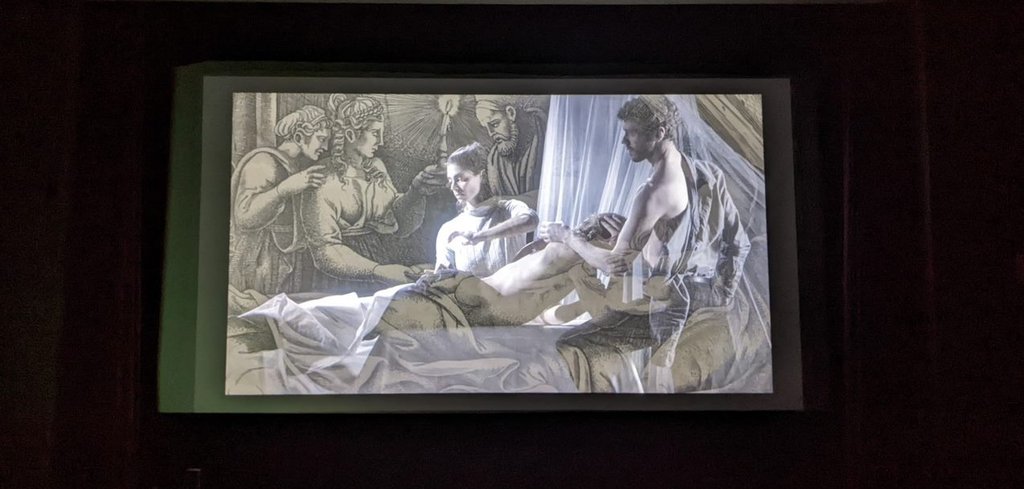 Day two started bright and early with Jill Burke's 'Make up and Murder: Killing Husbands with Cosmetics in Early Modern Italy', and Tianna Uchatz's 'Netherlandish Nudes: Skin, Surface, Senses'. The panel, titled 'Beauty, Art and Gender', was chaired by Renaissance Skin's own Sarah Cockram, and prompted lively discussion.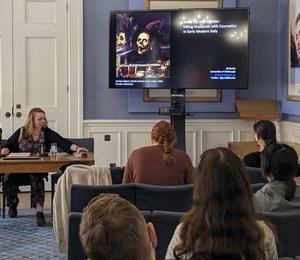 The second panel of the day 'Material Culture and Animals' welcomed back former post-doc Kathleen Walker-Meikle to chair, and included engrossing talks from Stefan Hanβ on 'The Matter of Birds in Renaissance Nuremberg' and Sarah-Maria Schober on 'Membranes: Smelling Animal Human Skin'. We were incredibly grateful to Stefan, who joined us virtually whilst being confined home with Covid.
On the afternoon of day two we looked to the future, with panel 'New Directions: Graduate Student Lightening Papers', chaired by our very own Hannah Murphy. We were so pleased to welcome four early career researchers to present their work in a series of lightening talks, with papers from Lily Freeman-Jones, Clare McLoughlin Davies, João Pereira de Matos, and Krisztina Ilko. Thank you to all four for sharing your wonderful work, and for reassuring us that the future of the research area is in safe hands!
The conference concluded with some reflections from our PI Evelyn Welch. Evelyn looked back to how the project started and reflected on the project's progress over its 5 years. Evelyn acknowledged and thanked all who have been so important to the project, and gave us a few tantalising hints of what we have to look forward to in the upcoming book.
We'd like to extend our thanks to everyone who participated in what was a fantastic closing conference for the Renaissance Skin team, and thanks also to everyone else who has participated in Renaissance Skin over the years.