As the year draws to a close, we look back at a productive time for Renaissance Skin and ahead to the project's concluding months, with our closing conference taking place in June 2022. It has been a busy year, with reading groups, workshops and events, conference attendances, and the curation and launch of an exciting exhibition.
We kicked off the year with a virtual reading group with Karin Sennefelt of Stockholm University, discussing her paper "Sensing the spirit: the bodies of Lutheran prophets and visionaries in the seventeenth century". A second virtual group welcomed Alexander Bevilacqua from Williams College to discuss ''Race and Royalty at the Brandenburg-Prussian Court''. It was fantastic to connect with both overseas scholars, the virtual reading group is certainly here to stay (although we always welcome the chance to meet in person!).
In March Sebestian Kroupa led an online workshop ''Tattooed Bodies in Early Modern Worlds''. The workshop was attended by over 20 visiting scholars, as well as guests Jessica Horn and Laurence Sessou who spoke about their project '.the temple of her skin': a visual documentary project exploring the stories, traditional practices and aesthetics around African women and their tattooing and scarification journeys. The workshop was followed by an online event attended by over 100 people, for an interactive session with Jessica and Laurence exploring the questions of decolonising tattoo history and tattoo culture.
April saw the virtual RSA conference, at which Kathleen Walker-Meikle and Sebestian Kroupa gave papers. Renaissance Skin was also well represented at the Medici Archive conference in Florence last month, which brought Evelyn Welch and Sarah Cockram together with past collaborator Paolo Savoia.
Throughout the year, Hannah Murphy and Becca Taite were working hard to produce the exhibition 'Visible Skin: Rediscovering the Renaissance through Black Portraiture' which launched on 10th September. The exhibition, the result of a successful bid for a Wellcome Trust Research Enrichment Diversity and Inclusion grant, was produced in collaboration with Kings Culture, and features the work of artist Peter Brathwaite. The launch was celebrated with a special Q&A event with Peter Brathwaite and Farah Karim-Cooper, Professor of Shakespeare Studies at King's and Co-Director of Education at Shakespeare's Globe. Visible Skin has been seen by thousands of pedestrians on the Strand since the exhibition opened in September. It has received wonderful press reviews, with TimeOut London recommending it in October as one of the most inspiring things to do in the city for Black History Month. Due to popular demand, the exhibition has now been extended until 18th February 2022, so be sure to check it out if you are on the Strand campus, or view online here.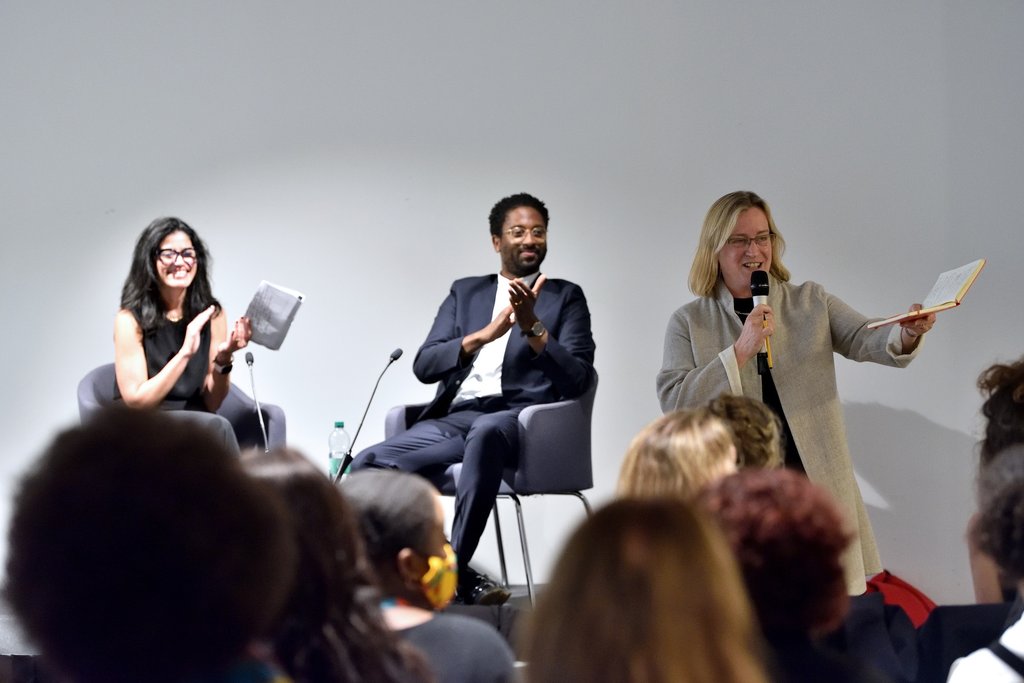 In project team news we said hello to Sarah Cockram in February. Sarah has proved a valuable addition to the team as we work to bring together the project's research over the last 5 years. This autumn we sadly said goodbye to Kathleen Walker-Meikle and Sebestian Kroupa. Having joined the project back in 2017, Kathleen has been central to Renaissance Skin; we thank her for all she brought to the project and congratulate her on her new role at the Science Museum Group. We also thank and congratulate Sebestian, who left the project in October to take up a Leverhulme Trust Early Career Fellowship at the University of Cambridge. We hope to bring Kathleen and Sebestian, as well as all our project friends, back together in June to celebrate at our closing conference.
Meanwhile Hannah Murphy, now Co-I of Renaissance Skin alongside Evelyn Welch, has completed her first year as PI of her new UKRI FLF Medicine and the Making of Race. You can find out more about her new project here.
Looking ahead to 2022, we'll start the year with a writing workshop retreat, which we hope will bring to completion some of our final project outputs (watch this space for news of Evelyn's monograph, Renaissance Skin!). We also look forward to welcoming Hannah Marcus to present her paper 'The Spectacle of Cassandra Fedele: Gender, Disability, and Long Life in Early Modern Venice' on the 11th February. RSA Dublin 2022 is another key event on the project's radar, and we are hugely excited to be hosting our final, closing conference on the 8th and 9th June 2022 – featuring an updated filmed version of the project's previous public engagement collaboration, "Carnivore" - before the project officially draws to a close on June 30th.
We wish everyone happy festivities for the weeks ahead and hope to engage with as many of you as we can in the project's final 6 months ahead.