The calendar year got off to a busy start for us, with no less than seven conference papers in three months. We began at Exeter, where the Centre for Medical History generously hosted the entire team in a mini-symposium dedicated to Renaissance Skin. As well as presentations by Evelyn Welch, Hannah Murphy, Kathleen Walker Meikle and Paolo Savoia, we were privileged to be joined by Michelle Webb. Her new project on facial disfigurement and disgust in early modern England opened up new sources and questions for the team. Our collective experience continued at the Renaissance Society of America's annual meeting in Toronto (17-19th March 2019), where we presented three papers, attended panels of new, cutting edge work and took the time to visit some amazing museums. A full report of our time there can be found here.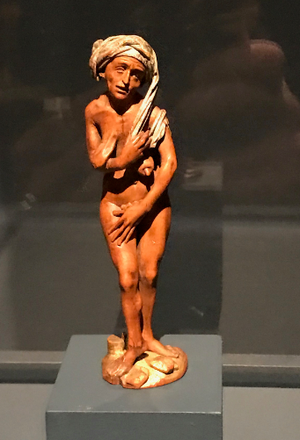 In May, we went to the Royal Academy for a project visit to the Renaissance Nude exhibition, an amazing experience. Capping off the spring term, the team spent two days at Chicheley Hall for a writing retreat, where we were able to workshop book proposals by Evelyn Welch and our project friend and frequent collaborator Craig Koslofsky. We were fortunate to benefit from Craig's expertise, and the time spent writing was a great way to segue into the summer. We also visited the nearby William Cowley Parchment Factory (title image), the last parchment factory in England and a truly memorable experience for the team.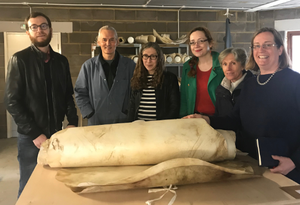 One project that we're pleased to have made real progress on is an edited volume on Skin in Early Modern Medicine. In June, we hosted a closed workshop with volume contributors Olivia Weisser and Fritz Dross, who shared drafts of their chapters on venereal disease and leprosy respectively. This was a great afternoon, and we were grateful to Olivia, Fritz and to John Henderson and Anne Goldgar who made time to lend their expertise as commentators. We also continued to host our open reading groups. Our meeting in June featured Noam Andrews, who shared new work on Juan de Alcega's Libro de Geometria, Práctica y Traça (1580). Noam's reading group inspired a particularly large turnout, and the conversation ranged from patterning, to the role of string, to the way in which such books were put together.
In September we hosted a mini-symposium on "Race before Race in Early Modern Europe", featuring new work by Carmen Fracchia (Birkbeck). This was followed by our two-day symposium on "Global Skins", with key-notes from Herman Bennett (CUNY), Chloe Ireton (UCL) and Anjana Singh (Groningen), in addition to further fascinating papers exploring skin in all its early modern manifestations, ranging from indigenous practices of tattooing in the sixteenth-century Americas to the display of animal skins in cabinets of curiosity.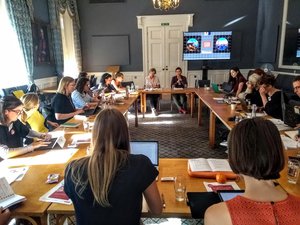 We ended the calendar year with a very special performance. 'Carnivore', a dance inspired by the Renaissance Skin project, was devised by Luke Murphy and renowned sculptor Alex Pentek, who collaborated on this provocative performance installation examining the nature of touch, contact and the lifecycle of our skin. Luke and his dance group performed at King's College London as the last stop of their tour in December. 
Finally, we've had a busy time with goodbyes and hellos. Our former project manager Natasha Awais Dean left us in January to take up an important new post overseeing research ethics. Replacing Natasha has been no easy task, but we were really fortunate to be joined by Becca Taite, whose energy, enthusiasm and attention have already enlivened our team. We're also very pleased to announce that our former postdoc Paolo Savoia has secured a permanent post at the University of Bologna. We're gutted to lose Paolo but thrilled that his important research has a proper home and eager to see what his future brings. Paolo's departure has meant we were able to advertise a new position on the project, and we are delighted to announce that we have appointed Sebestian Kroupa, who is starting this January. Sebestian joins us having recently completed his doctorate at Cambridge on the career of the Jesuit pharmacist Georg Joseph Kamel (1661-1706). We are incredibly excited to welcome Sebestian and look forward to embracing his contributions to the project.
In other team news, Kathleen has taken up a 6 month Wellcome Trust Secondment Fellowship at the V&A Research Institute, working on the theme Age and Ageing through the museum's collections. A really exciting opportunity. We look forward to Kathleen's return in August. 
Looking forward to the coming year, we already have a number of events in the pipeline, kicking off with a workshop on early modern surgery on the afternoon of 29th January, followed by a book launch for our former colleague Paolo Savoia that evening. Keep an eye on our events page to find out more about what we've got in store for 2020.